Choosing Rope
What type of rope should I use?
If rope bondage is new to you, start off with inexpensive Nylon or MFP at 1/4″ (6mm).  They are soft and sensuous, and come in lots of colors if you like colored rope.  Once you know that you are in to rope bondage, you might want to invest in a set of nice natural fiber ropes, Hemp &  Jute are favorites of many riggers.
Buying through links on this page helps support TheDuchy!
We have affiliate relationships with Twisted Monk, Agreeable Agony, TwistedSyn, Amazon and other vendors we link to and get a small percentage of your purchase as a referral bonus.
For guidance on common thicknesses and lengths, check out: Rope Lengths & Thicknesses.
What type of rope should you use?
What type of rope is best for you?
It depends on what you want to use it for.  Here are some qualities of different kinds of ropes so you can decide for yourself based on your needs.
Here are a few commonly-used types for comparison.  Each is 1/4″ (6mm).
Note the different appearances of the different types. Natural v synthetic fiber, braided vs twisted, twisted one way vs the other.  There are many options.
Some people use Cotton or Nylon for their first ropes as the are inexpensive and easy to find.  If you do this, avoid "solid core" versions.  They don't flatten as much under tension and don't respond properly to various commonly used knots, lock-offs and frictions.  That said, I do like Solid-Core Cotton Sash Cord for making floggers.  You will see it used extensively in Flogger Forge.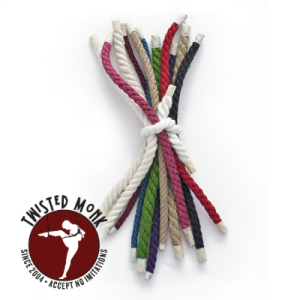 These include:
Hemp, Jute, Sisal, Cotton, Coconut, Bamboo
Pro: Better friction or "tooth", so it grabs better and takes fewer knots to hold securely
Pro: It doesn't stretch as much and has more consistent stretch characteristics.
Con: Doesn't take dye as well. Colors will be more muted, less brilliant and it will take more dye to get a rich color.
Con: More expensive
Qualities:
Hemp and Jute are very popular with riggers world-wide.
Hemp is stronger and can be used in suspension.
Jute is typically lighter and moves in a nice springy way and is popular for floor work.
Sisal can certainly be used for floor work but be prepared for rope burns.
Coconut rope is even more nasty.  It is used when rope burns and discomfort from the rope itself is actually part of the plan for the scene.  Most rope bottoms just stop struggling altogether after a little time in coconut rope…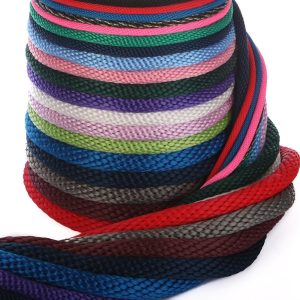 For floor work (non-suspension), these include:
Most synthetic ropes from a hardware store, including the type of nylon they usually carry (which is often solid-core), "mixed fiber" rope, & poly-pro.  Also parachute cord.
Pro: Less expensive
Pro: Nylon, MFP and Paracord come in many brilliant colors
Con: Poly pro or mixed material does not take color well/consistently with regular dyes
Con: Some types can stretch in inconsistent/unpredictable ways.
For Suspension: 
Amsteel, POSH, MFP (multi-fiber propylene), Nylon (types curated by suppliers for use in bondage, not the types typically found in hardware stores), Hempex
All the Pros from above
Pro: Good choices for suspension up lines as they are much stronger than natural fiber ropes of the same thickness.
Can be purchased in a wide variety of colors, but do not take dye well at home.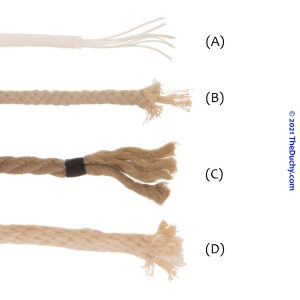 Rope can be constructed in a number of common ways.  Here are a few examples:
(A) Paracord – Braided nylon sheath over twisted nylon thread making up the core
(B) Cotton Clothes Line – Braided cotton sheath over twisted cotton thread making up the core
(C) Hemp Rope – Twisted strands, see next panel for more details
(D) Cotton sash cord – Braided cotton sheath over twisted nylon thread making up the core
Whether you pick braided or twisted rope is a personal preference, but they do behave and look different.  Twisted Rope has more bumps in it which tends to increases the friction and make knots hold a little better, but braided rope with good tooth will hold just fine as well.  Either is fine, but most riggers don't like to mix the types in a single scene, the stylistic differences can look jarring…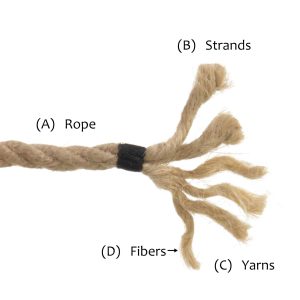 Many people love "traditional" rope–that is, "twisted strand" rope–made of natural fibers.
(A) A twisted strand rope…
(B) is made up of 3-5 Strands (3 is the most common)
(C) Strands are made up of yarns.  (In this rope, I unlaid one strand to find it was composed of 4 yarns.)
(D) Yarns are made of individual fibers.
Each layer is twisted in the opposite direction of the layer before.  This interconnects all the fibers, allowing their internal friction to grip each other firmly to make a strong rope.
One of the reasons we talk about using the "hook" or the "scissors" technique to handle rope is that if you use your thumb and forefinger in a pincher-like movement to grab the rope, you might grab just one strand and not the whole rope.  If you do that and pull, you can pull the strands apart, unlaying them in the middle of your rope–hyperthreading them– and getting your rope all messed up.  It is very difficult to get your rope back in order if it has been pulled apart like this and it will never be quite as strong.